The American Composites Manufacturers Association seeksMarketing& Communications Intern of the unpaid variety – preference for current upper-classman undergrad – Clarendon Metro-proximate location

National Nurses United seeks Legislative Advocate with lobbying and labor movement experience, as well as familiarity with healthcare-related issues

We have it on good authority that M+R is still actively seeking candidates for these; DC, New York, or San Francisco, CA except as noted:
The Climate Reality Project, a group founded by Mr. An Inconvenient Truth himself, seeks Summer (May-August) Interns for work supporting their Climate Reality Leadership Corps and their communications dept. (scroll down).

Voto Latino, a group working to build the political capacity of the young Latino cohort, seeks Communications Intern with excellent writing, research and editing skills, as well as proficiency in social media, and Google Docs.

American University
Compassion & Choices, the self-described leading end-of-life choice advocacy group, may be Communications& Marketing Intern (pdf), although the document notes this for Summer and/or Fall of 2013. But maybe they just didn't update it; who knows anything, really? (Well, we're in a mood today, aren't we?)

Pew Charitable Trusts
George Mason University – Managing Editor, Strategic Communications – five years of increasingly challenging experience in a diversified communications and/or marketing environment sought – apply byApr. 9

Super-sized global law firm Hogan Lovells seeks Communications Coordinator (hard to open pdf link in our experience; we had to download and select file) – can also search here (scroll to bottom) – DC or New York

World Food Program USA – can also search here
Your internal communications-focused Director of Employee Engagement post at BAE Systems has you reporting to the VP of Communications for Land & Armaments, which strikes us as kind of fun.

Also offered through the auspices of the British Embassy, and closer to home, we find this Learning& Development Coordinator opportunity – $38k – apply byApr. 13

And one more from le monde diplomatique: The Embassy of Switzerland seeks Social Secretary with protocol experience and German or French language skills

Bloomberg
Center for Strategic& International Studies – Intern, External Affairs – two posts available
The Hunt Alternatives Fund seeks full-time, temporary Communications Assistant to support their Institute for Inclusive Security affiliate – your min. two years' experience should include work in developing & deploying digital content.

Join Melwood in their work providing job opportunities for people w/ disabilities in the DC area as Vice President, External Affairs – Upper Marlboro, MD

Bayer (search DC location)
Car service innovator Uber looks to say "hop in" to a Communications Lead, Eastern U.S. with 8-10 years of relevant experience including work in political/policy/public affairs sphere – strong preference for DC-based candidates

Refugees International seeks a London, UK-based Senior Advocate with at least 5-7 years work experience in humanitarian advocacy and operations, as well as an established network of contacts in the key Europe-based institutions and organizations dealing with refugee, displacement, and humanitarian crises – apply by Apr. 15

InterDigital – Vice President, Government Relations & Regulatory Affairs (scroll to find)

Industry Dive, a Dupont Circle-based media start-up focused on building mobile products for executives in specific industries seeks Business Writer/Editor and remotely based, part-time Contributing Editor; the latter to supply early a.m. submissions. Interns in editorial, data & design segments also sought.

The Dumbarton Oaks Park Conservancy seeks a Conservancy Director with appropriate fundraising and nonprofit management skills.

United Nations Foundation
The Hilltop Institute at the University of Maryland, Baltimore County, a non-partisan health research organization with particular expertise in Medicaid, seeks Policy Analyst with Master's degree in Public Policy, Health Administration, Health Services, Public Health, Sociology, or related field and one year of experience, preferably in the U.S. health care delivery system – Baltimore, MD – apply by Apr. 15

DRC seeks Strategic Communications Planner to support the Military Health System Strategic Communications Office – ideal candidate will have five to seven years of professional experience in public relations, public affairs, or strategic communications; three years of experience working in a DoD communications or public affairs environment is required.

The Stimson Center, a think tank that conducts research and offers pragmatic policy ideas on some of the most important peace and security challenges around the world will give you until Apr. 27 to respond to their call for a Communications Director – you'll need to get to it considerably quicker to snag one of several Intern opportunities (presumably of the Summertime sort); those sport an Apr. 1 deadline.

Society for Neuroscience
Grim weather here of late compels us to bring you this Los Angeles-based External Communications Manager supportingKetchum's U.S. Farmers & Ranchers Alliance client. We're jealous already.

Hey look! Manager, PAC & Grassroots is a job we used to have at the American Forest & Paper Association. Had a great office; used to be the graphic designer's office, and it was huge. Good times.

George Washington University
This is a little outside our normal area of focus, but surely someone among you has the promotional skills and hustle needed to succeed as National Business Development Manager for Arlington County – $51k-$95k – apply by Apr. 17

Got library experience? Arlington County also has part-time Library Assistant ($29k-$52k) and Library Associate ($18-$33/hr) posts available – Apr. 3 application deadline for both

… and finally, a part-time House Manager gig with the Folger Shakespeare Library sounds kind of fun and challenging, in a jack-of-all-trades sort of fashion
Powered by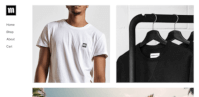 Create your own unique website with customizable templates.